Village at Wexford Farmer's Market
Have you been to a farmers market in Hilton Head? I recommend the Village at Wexford Farmer's Market on William Hilton Parkway. You can enjoy the weather while shopping for that special gift, meet the locals – or try a homemade treat. The market is a family-friendly place to visit during the summer months.
I recently visited the market on a sunny, Wednesday afternoon. I came across vendors selling fresh baked goods, fresh shrimp, cold treats, crafts, and local fruits/vegetables. However, there were a couple of vendors that caught my attention. You are about to find out why.
The Grind Roasters
The Grind Roasters is a full-service coffee and supply company. They have been in business since 2016. Consumers can purchase coffee by the cup, K-Cup bag, and Nespresso Pod. You can also purchase coffee-related accessories, clothing, and gifts. For businesses, the company sells Wholesale coffee and does equipment consultations that include sale and repair. They are growing!
Now for the coffee. I felt an immediate connection to a particular coffee that the Owner/Roast Master, Ian Duncan, showed me. It was a Light Roast coffee from the Amazons of Peru! Part of my ancestry is South American. I was impressed at the options of Spanish coffee from countries such as Colombia, Guatemala, and Honduras. My family is delighted to know that Peruvian coffee is available in Hilton Head, South Carolina. If you are interested in specialty coffee there are Kona and Haitian Blue Mountain flavors as well. For coffee aficionados out there, yes, you have options!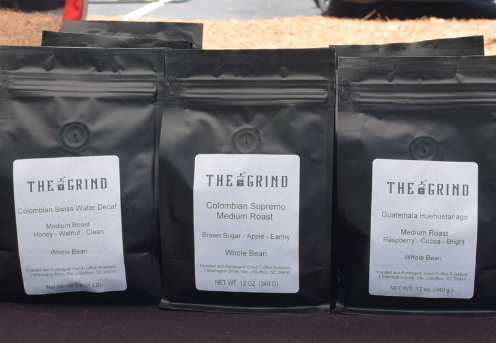 LeCookery
The Owners, Laurel & Chuck Greif began their business in 2007. For those who love to cook or want to improve their cooking skills, LeCookery has the latest gadgets. If you are searching for name brands such as Breville, Wolf or Juliska this local Owner has it.
I met Laurel. She had a product called The Houndstooth Prep System that I thought I could use in my kitchen. I asked about it and she was happy to demonstrate how the wooden cutting board works. There is also a tool called the Houndstooth that you hold in your hand to help you cut vegetables. The tool protects you from cutting your fingers while slicing or dicing. Laurel made everything look easy. She gave me a knife and the tool so I could practice on the cutting board. The cutting board also comes with a booklet on how to cut various vegetables. Not only did I learn how to cut vegetables properly, I decided to purchase the product. I love it!
The Village at Wexford Farmer's Market is open every Wednesday at 11:00 a.m. – 4:00 p.m. until September 4. There are two great things about this market. First, the area is shaded so you will be able to keep cool while checking out the incredible produce and specialty vendors. Secondly, the farmer's market is just minutes from Spinnaker Resorts. Enjoy your visit!