Ten Favorite Adventures on Hilton Head Island
Hilton Head Island is well known for beautiful beaches, golf courses and wildlife. Many visitors flock to the shores to relax in the sun, walk, bike, build sandcastles and play in the surf. But if you are looking to add some adventure to your vacation, there are numerous options and businesses on the island ready to help you do just that. Here's a list of some of our favorite recommendations, many receiving Certificates of Excellence from TripAdvisor.
Pirates of Hilton Head
Little landlubbers will learn to be pirates on Hilton Head's first and only custom pirate ship. Before climbing aboard the Black Dagger, kids will don pirate gear, face paint, and temporary tattoos. Everyone gets a pirate name and learns how to talk like a pirate. A map with lead the kiddie crew to the sunken treasure chest, but Stinky Pete stole the key! The race is on to find Stinky Pete before he finds the treasure. The kids have to man the water cannons and defeat Stinky Pete to get the key back. The Black Dagger is docked at the commercial pier in Harbour Town right under the lighthouse in Sea Pines Resort.
http://www.piratesofhiltonhead.com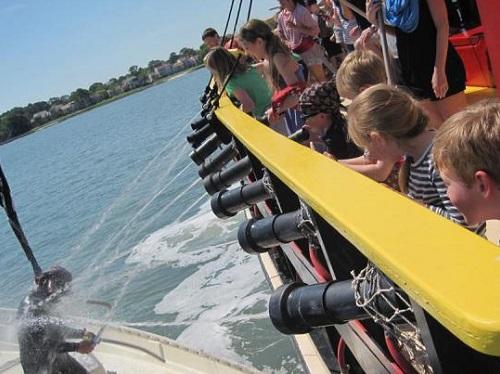 Live Oac Tours and Watersports
Live Oac has been exploring the waters around Hilton Head Island for years, taking families and groups on eco tours, fishing charters, and watersports adventures. All Live Oac guides are USCG Licensed Captains and interpretive naturalist educators and they have direct access to Pinckney Island National Wildlife Refuge waters from their dock at Hilton Head Harbor. A fun family option is Dolphin Tubing which combines two of Hilton Head's best activities; tubing behind the boat and dolphin watching on the same outing. It's not unusual to have some swim by while you're on the tube!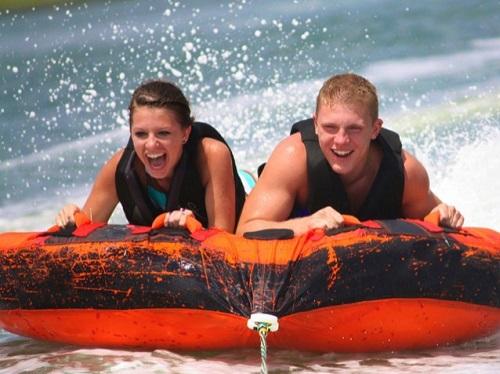 Zipline and Aerial Adventures
In the heart of Hilton Head Island, take a tour of the area surrounding Broad Creek via zipline. In the 2-hour eco-adventure, you'll soar through the massive oaks and pines and look for wildlife in the surrounding marshlands and forest canopy. Eight ziplines up to 75 feet, swaying bridges and an aerial staircase are all interconnected by platforms and trees, will lead you to the dual cable zipline finale where 2 people race side-by-side for 900 feet to the finish line. Great for all ages, ZipLine Hilton Head also offers an aerial adventure and kids programs, such as Adventure Squad and Rascal Ropes, a low ropes course for younger explorers. Fifty in-the-tree challenge activities on 6 courses ranging from easy to hard as you cross swinging bridges, zip on a skateboard zipline, jump through hoops, and climb many invigorating obstacles.
http://www.ziplinehiltonhead.com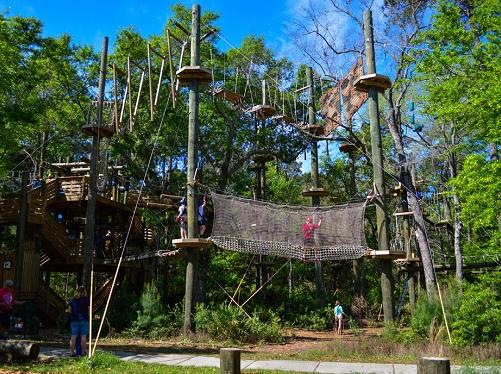 Helicopter Tours
Hilton Head Helicopter Tours offers the chance to see dolphins, sharks, sea-turtles, and stingrays from the air! Tours are available for all ages making this a fun family adventure. Come see Hilton Head and Daufuskie Island in whole new way. The Lighthouse Tour travels across several islands including Hilton Head, Daufuskie, Cockspur, and Tybee Island. Along the way you will see old lighthouses, breathtaking coastal views of the Lowcountry, and small remote islands. The Eco Tour follows some of the most beautiful and remote beaches on the east coast. Within just a few minutes of flight time you will discover pristine beaches and islands that are impossible to get to by car resulting in the most beautiful and undisturbed shorelines. Along the way you will see shipwrecks, a deserted lighthouse, and old fishing cabins. This tour also provides a good chance of seeing large sharks, dolphins, rays, alligators and bald eagles! The Ultimate Adventure covers the entire island of Hilton Head and the eastern shores of Daufuskie Island. You will see awesome sights including Harbour Town Lighthouse, Port Royal Sound, Parris Island, South Beach and Coligny Beach. Many options to choose from and all promise tons of great memories.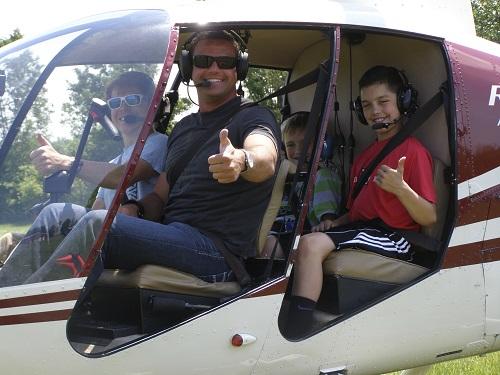 Backwater Adventure
Backwater Adventure features one of the most unique boat tours ever. "Craigcats" are safe, easy to drive, and maneuver like a hovercraft. With 30 horsepower motors the owner describe the boats as "go carts on the water." Guests can drive their own boat during the interactive adventure as you cruise around the beautiful waterways of Hilton Head looking for wildlife, dolphins, or just enjoy the ocean breeze. If the water is smooth, you may make it out to the lighthouse. Perfect for couples, groups, and families with children 5 years and up.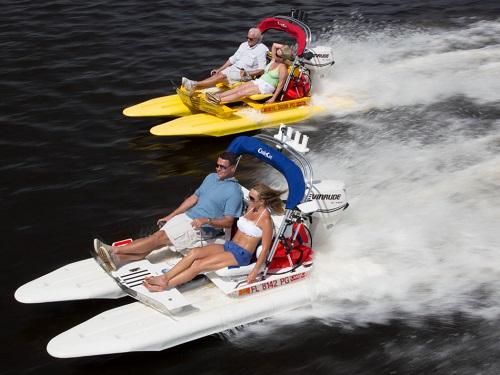 Segway Tours
Get away from the crowds and streets and cruise on a Segway through live oak forests, grassy meadows and across the boardwalk over the salt marsh. Take an eco tour at Honey Horn, the island's nature preserve, or for a faster pace, take the tropical pathways tour near Coligny.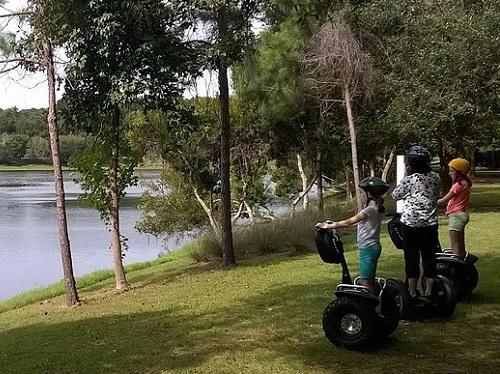 Dolphin Tours
Unlike the large tour boats, Dolphin Discoveries limits tours to 6 people maximum so that everyone on board has plenty of room to get the best view of the dolphins. There's no fighting for space to get the best angle for pictures! The waters surrounding Hilton Head are home to several hundred bottlenose dolphins, some so familiar to the tour operators they have nicknames. "Blackbeard", "Nick", "Choppy", "Big Bob" and "Baby Stripes" are some of the characters you may see playing, feeding, and occasionally showing off for the cameras.
http://dolphindiscoverieshiltonhead.com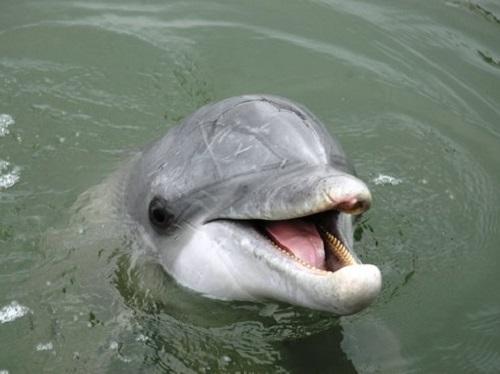 May River Excursions
Based in Old Town Bluffton, May River Excursions offers a variety of boating experiences ranging from river cruises to fishing, crabbing and shrimping excursions. Try the Lowcountry Oyster Farm Experience to learn about the ecosystem of the salt water marsh and experience the May River Oyster Company where thousands of oysters are being raised. Another unique opportunity is the water taxi to and from Daufuskie Island, offered seven days a week during daylight hours. Learn about the rich Gullah, American Indian, and Civil War history that makes this bridge-less island historically significant. Pack a lunch or dine at Marshside Mama's, the Daufuskie Crab Company, or Eagles Nest. Take a tour of the Daufuskie Island Rum Company and stop by the Iron Fish Gallery.
http://mayriverexcursions.com/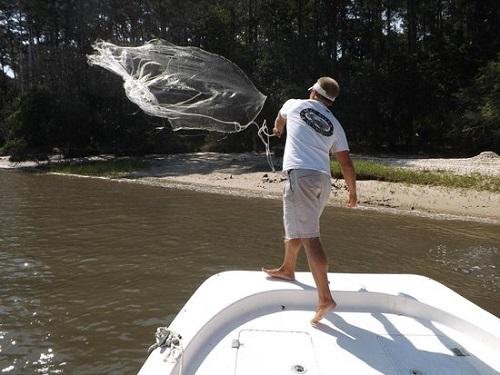 Tammy Jane – Morning Shrimpin' Excursion
Join the crew aboard the Tammy Jane for a 2-hour educational and picturesque trip. You'll learn about the Hilton Head salt marsh environment, as well as a day in life of the local shrimpers. The boats are magnets for sea birds and dolphins. Once the Tammy Jane arrives at the shrimping grounds, the trawling begins. You'll get a hands-on experience of everything they catch. This is a unique opportunity for guests of all ages!
http://www.vagabondcruise.com/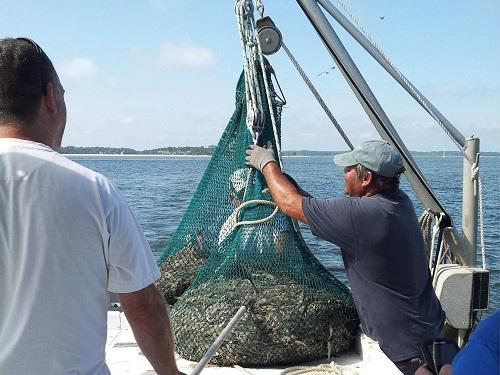 H20 Sports
H20 Sports, located in Harbour Town Marina, touts they have the best experience you can have on the water for all ages. It's hard to argue when they offer parasailing, waverunners, banana boat rides, paddle boarding, sailing tours, and more. They also have a ferry to Daufuskie Island so you can explore the island on golf carts, or play a quick round of golf on the most amazing turf in the Lowcountry. Fun is their business and business is good!