Sweet Treats at the Bluffton Farmers Market!
September 1, 2016 - 2:05 pm
Farmers Market of Bluffton
Every Thursday the town of Bluffton celebrates local business and fresh foods at the Farmers Market. Since 2008, the Farmers Market has achieved success by selling the best local produce, seafood, and meats. Twice it has been voted the most celebrated Farmers Market in South Carolina by the American Farmland Trust. All locals and vacationers are invited to take part in this community event. Not only can you purchase all of the fresh, locally grown fruits and vegetables; you have the opportunity to fully enjoy what each vendor has to offer.
On my adventure this past week, I started at the Cottage Café to pick up some homemade loaves of bread. This booth is one of my favorites because the owner always provides a wide variety of artisan bread each week. This week, I purchased a garlic and spinach bread. I moved on to the Shuler Peach Company to try out their delicious fruits. After a few samples, I ended up purchasing a couple of large fresh peaches. After visiting numerous vendors, my last stop was Beach Beggin to pick up my dog's favorite all natural/organic pet treats. The Farmers Market of Bluffton may provide you with the healthiest and most delicious foods, but it's also a great way to connect and explore Old Town Bluffton!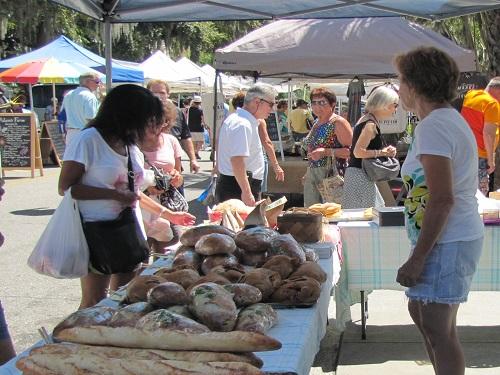 Programs
The Farmers Market of Bluffton offers three educational programs focused on the importance of healthy living.
Chef in the Market – Each week, a local chef is invited to make a "healthy lifestyle dish" and provide a recipe to go along with it. Everyone is encouraged to watch and ask any questions as the chef creates his meals.
Clemson Extension Master Gardener – You can visit the Master Gardener every week for gardening tips, soil corrections, and best planting practices.
Think Out of the Box Little Growers – This program is specifically for children ages 5-12 to learn about healthy living and gardening skills.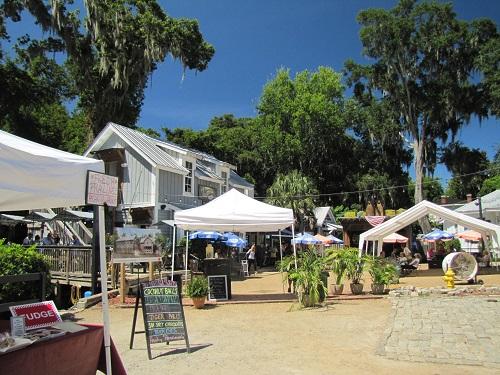 Vendors
There over 40 vendors from the Bluffton area to provide you with the best locally grown produce and more! One of my favorite attributes with the Farmers Market of Bluffton is networking. As a local or a tourist, you will get to meet the hard working farmers and vendors that are proud to bring the freshest and most unique items to their tables. The Farmers Market has such an amazing atmosphere you will want to hangout for a while. There are picnic tables for visitors to sit and enjoy their food while local artists play their music, making it a relaxed and engaging place to be!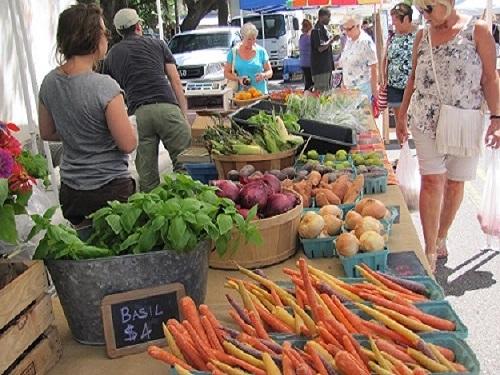 Old Town Trolley Tours
The Farmers Market of Bluffton provides complimentary transportation to and from the market! If you park at the Bluffton Public Library on SR 46/Bluffton Road, the trolley will provide you with a free 3-minute trip to the Farmers Market. It runs every 15 minutes throughout the duration of the market. Keep an eye out for the Old Town Trolley orange and green sign to hop on board!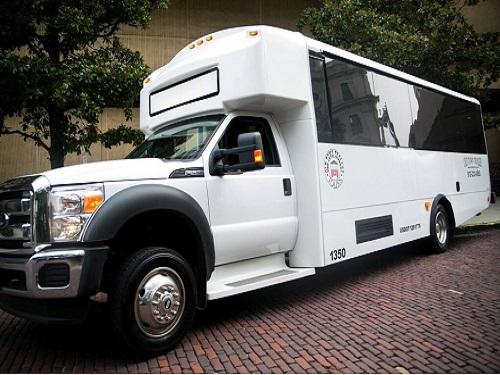 Directions & Time
The Farmers Market of Bluffton is located in Old Town Bluffton every Thursday. From now to September 29th the hours are 2 p.m. to 7 p.m. From October 6th to December 15th, the market hours will be 2 p.m. to 6 p.m. Please note the streets are blocked off for the market, however, there is a small lot in Old Town Bluffton. If you cannot find parking in the market area, I suggest parking at the Public Library, where transportation is provided by the Old Town Trolleys. For more information, or to sign up for their newsletter, please visit The Farmers Market of Bluffton website.