Seasonal Celebrations and Events at Shelter Cove Harbour & Marina
November 22, 2022 - 4:53 pm
Shelter Cove is a significant part of Hilton Head. There are many things to see and do every season in and around the cove. Whether you like, music, holiday festivities, first-class shopping, dancing the night away, or spending time on the water there is one thing for sure – there is something for everyone at Shelter Cove.
Winter Wonderland
Santa & Shopping Day
Santa Clause visits Hilton Head every year on the day after Thanksgiving at Shelter Cove. Santa arrives at Noon and stays until 2:30 p.m. The children share their Christmas lists with Santa and take memorable photos. After the kids meet Santa, they can go for a train ride and enjoy shopping with their parents. The first 250 kids that come to see Santa receive a gingerbread cookie.
Light Up the Harbour
In December there is a spectacular lights display. Stroll down the boardwalk and enjoy an array of holiday lights surrounding the marina stores and boats. Stop in one of the local shops for a holiday gift and discounts.
Spring Fling All Year Round
One of the main attractions at Shelter Cove is the marina itself. Water sports and fishing take place all year round in Hilton Head due to the beautiful weather, but something special happens around springtime.
More locals and visitors head out on the water to view the beauty of the Lowcountry. If you're looking for a dolphin sighting this is one of the spots on Hilton Head where the dolphins frolic from time to time during the day. Below are a couple of companies we recommend for a fun and exciting day on the water.
Captain Hook Fishing Charter
Enjoy the Spectacular views of Hilton Head Island as you embark on a private one-on-one fishing experience. Bring your family and friends and learn about the best places and times to fish in the Lowcountry. For more information about renting a charter call (866) 661-3822.
Outside Hilton Head's Family Ski Day
What could be more fun than spending the day on the water tubing, water skiing, wakeboarding, or kneeboarding. These exciting water sports are all available at Outside Hilton Head's Family Ski Day at the cove. No experience is necessary and licensed captains are there to provide instruction. For more information call (866) 661-3822.
Summertime Fun at HarbourFest
Summer on Hilton Head wouldn't be the same without Harbourfest at Shelter Cove. Harbourfest is full of fun activities and events the entire family can share. This weekly celebration of summer is a must-see for anyone visiting Hilton Head.
Fireworks Every Tuesday
You don't want to miss this spectacular display of fireworks every Tuesday night beginning in June at 7 p.m. It's like the 4th of July every week. The fireworks will be displayed on the day the holiday falls that year. You can see the fireworks through the end of August.
Cappy The Clown
Cappy The Clown is well-known around Hilton Head for her humor and fun. Her entertainment doesn't stop there though, she paints faces, braids hair, and creates beautiful balloon animals for the kids. Her joy of making children happy is something to experience. Come enjoy Cappy the Clown every Monday – Friday 3, 6, and 9 p.m. May through August, July 4th, and Labor Day Weekend.
Parrot Palooza
If you like Jimmy Buffet music, you will love Shannon Tanner & The Oyster Reefers, a Jimmy Buffet tribute band. Come enjoy the music and dancing every Thursday starting at 7 p.m. from June 13 through August 22 as well as Labor Day Weekend. Cappy the Clown will be there with fun activities for the children.
Please visit Shannontanner.com for specific dates and times of his performances.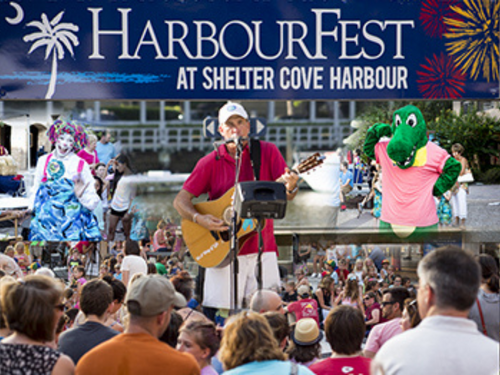 Fall Festivals and Events
Music and Taste on the Harbor
Thursday evenings in September and October are filled with music, food, and cocktails by the Neptune Statue at Shelter Cove. The fun starts at 6 p.m. and ends at 9 p.m. The food is provided by restaurants at the cove. The event is for locals and island guests with a variety of appetizers, wine, and cocktails specially priced.
Crescendo Kick-Off Party
Every fall there is a Crescendo celebration at Shelter Cove Community Park. The kick-off party includes live music, dance performances, local storytellers, food, and drinks. The event takes place to launch the month-long annual Crescendo Celebration of Arts & Culture. This regional event is in honor of October's National Arts and Humanities month, highlighting Hilton Head's many arts, culture, and history organizations as well as the many artists and performers that live in the area. Local artists display, paint, and sell their artwork at various booths. You will also have a chance to win one of the unique door prizes.
Every season at Shelter Cove there is a fun and festive event for children and grownups alike. Consider spending some time at Shelter Cove when you're in town.
FOLLOW SPINNAKER RESORTS ON FACEBOOK AND INSTAGRAM FOR MORE INFORMATION ON ACTIVITIES!