The 2017 Gullah Celebration on Hilton Head
February 3, 2017 - 5:00 am
Many folks know that February is National Black History Month. A lesser known treasure is that February is Gullah Celebration Month on Hilton Head Island, celebrating the area's rich history of slave descendants from West African countries. Many of the African traditions have been preserved and developed over 300 years by the Gullah people on Hilton Head Island and other sea islands in Georgia and South Carolina from generation to generation. The Gullah people have their own distinctive dialect that has significantly decreased in use but is still spoken in some "native islander" communities on the islands. In a previous Gullah Celebration blog, titled How to Speak the Gullah Language, we focused entirely on Gullah dialect along with a sampling of Gullah words and their English translation. Be sure to check that out to see what I'm talking about!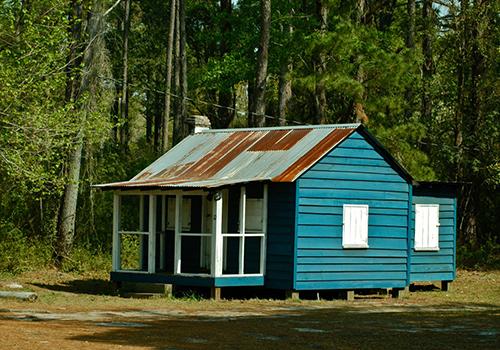 Gullah cuisine, music, art, religious practices, superstitions and influences are still prevalent throughout the island. Gullah culture had begun to die out among the local African American families, but it has made resurgence thanks to various groups working to keep this unique heritage alive. It is worth learning about while you are on Hilton Head. Attend an event at Coastal Discovery Museum or stop by a sweetgrass weaver's roadside stand when traveling through the Sea Islands to and from Hilton Head Island along the coast of South Carolina.
The Gullah Culture is everywhere! It's in the local seafood at restaurants, the "Haint" blue tint of window shutters that caught your eye, the shaggy-haired short horse grazing out in front of a small home within view of Bluewater Resort and Marina, the fellow patron at Whole Foods whose lilting accent you couldn't place and even in that gallery oil painting that would go perfect over the fireplace back home. Gullah heritage is interwoven into the very fibers of Hilton Head Island.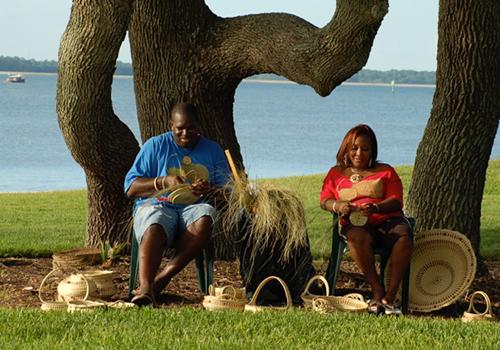 There's a lot planned locally for Gullah Celebration Month to celebrate and discover this rich culture. Personally, when I think of Gullah celebrations, I think of the mouthwatering cuisine! Each food event will leave you satiated but already craving the next Gullah food event! On February 4th, join the island's locals and visitors at the Historic Cherry Hill School to commemorate Freedom Day. Freedom Day was established in 1948 by President Truman in remembrance of February 1, 1865 when President Lincoln signed into law the 13th Amendment which outlawed slavery. The Cherry Hill School was built in 1937 (during the Great Depression), mainly with funds from island African American churches for the local Gullah families. The schoolhouse was added to the National Register of Historic Places in 2012. The afternoon of Freedom Day will be filled with music and art exhibits, but the morning starts with an old fashioned Gullah breakfast. Have you ever had shrimp in gravy or catfish served with grits for breakfast?
If breakfast is just too early for you to eat in anything other than pajamas (when you're on vacation), there's still the Taste of Gullah event at the Arts Center of Coastal Carolina. Come enjoy savory Gullah favorites like Okra Gumbo, Conch Stew, traditionally seasoned shrimp dishes, chicken and ribs. Sit back and dine until your belly is full while taking in traditional dancers, musicians and storytellers. And wait – there are more food events! The following weekend, February 25th – 26th the Arts, Crafts & Food Expo at the Coastal Discovery Museum provides two whole days of Gullah cuisine, art items on display for purchase and cultural demonstrations you can enjoy.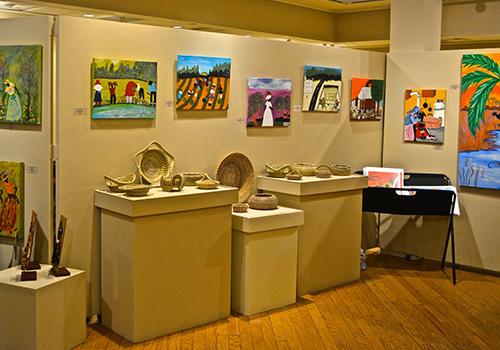 Music plays a huge part in Gullah heritage. There will be several events centered around the Gullah music. What the rest of the country calls Negro Spirituals are in abundance. These are songs that the sea island slaves sang to rouse their spirits in solidarity, finding within them a freedom deprived them during the oppression of slavery in the U.S., and for many back in Africa. The songs were and are a lyrical mix of English and West African languages that made up the Gullah dialect. Several events during Gullah Celebration Month are dedicated to the music of the Gullah people. Check out the Calendar of Events for more information on the music events offered.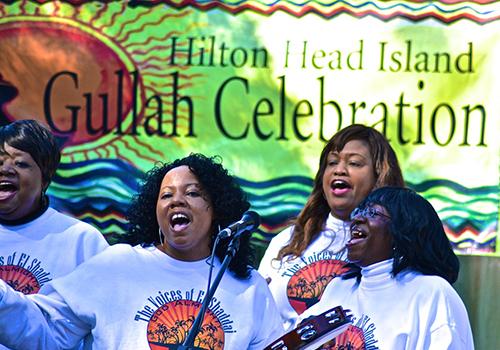 The final weekend of Gullah Celebration Month on Hilton Head will start with a Gullah Music Series event featuring Gospel Quartets on Friday, February 24th. Saturday, come celebrate African American authors while enjoying a Gullah buffet. A key educational event will close out the month long celebration at the Arts Center. If you're not aware of American South's connection to West Africa, this event will amaze you. Speaking from personal experience, it is truly a fascinating subject!
At the end of your visit during Gullah Celebration Month, you'll be putting in for your February vacation next year. If you miss it this year, I suggest you consider it for a future year's vacation. If your Hilton Head vacation falls during another time of year, you've got a tiny peek into the remarkable preservation of a 300+ year culture still in existence on Hilton Head. Even with the hustle and bustle of 21st century life here, Gullah lives on!
To check out other blog posts on the subject of the purveyance of Gullah culture on the island and surrounding area, here's a list:
Sheriff of the Dark Arts Pt. 2
Haint Paint, Ocean Water and the South Carolina Flag
How to Speak the Gullah Language
(Originally posted February 2016, updated February 3, 2017. Blog photos courtesy of Glen McCaskey)