Employees Take On Restaurant Week
February 11, 2015 - 9:14 pm
January 24-31, 2015 was the 7th Annual Chamber Restaurant Week on Hilton Head Island. This week is modeled after similar events in Los Angeles and NYC where participating restaurants offer a specially price-fixed "prix fixe" menu. I decided to employ some fellow Spinnaker employees to help me with this blog. Four willing foodies took to four local Chamber Restaurant Week participants to check out their fare. All four have different writing styles and palates and are presented in no particular order. Let's hear directly from them, shall we?
Bistro 17 review by Basil Matthews, Comptroller of Spinnaker Resorts
"Last week was Chamber Restaurant Week on Hilton Head Island. This was a great week for my wife and I to dine out! We were asked to participate in sharing about our experience. I hesitated… because I love this venue. What's the dilemma then? If too many of you read this and decide to try it, well; I might have trouble making my next reservation!
Bistro 17 on Hilton Head is what I believe to be one of the more romantic restaurants on the island. Not surprisingly to me or my wife, we had a fabulous meal. Situated on the harbor in Shelter Cove Marina, the restaurant overlooks an array of pleasure yachts. And in the evening, if you're seated outdoors, you can witness the better part of Hilton Head's breathtaking sunsets. With indoor and outdoor seating the choice is yours. Indoors there's a bar and plenty of seating. Piano music serenades you in the evening. This is obviously French styled and it provides a pleasing European feel.
The food? For Restaurant Week, Bistro 17 had a 3 course fixed menu. We both enjoyed French Onion Soup Gratinee and Roasted Pepper soup, a Bistro 17 Salad and a Caesar salad, with our entrées a petite filet with Bistro's signature sauce, mashed potatoes and green beans and wild salmon with a peppered mustard sauce over mixed greens, pine nuts, dried cranberries, red onion and Roquefort. All perfectly delicious!
The service? Excellent – friendly and competent.
If you look online you'll see a mixed bag of reviews with some good and yes, some awful. But we've personally never had a bad experience in over 6 years, either with food or service. One possible gripe of the slightest sort – the tables are small and the plates large… but don't allow this to bother you and you'll have a great meal."
Basil Matthews grew up in Guelph, Ontario, Canada. (60 miles west of Toronto.) Attended York University in Toronto and graduated with a BA in Sociology. Became a Chartered Accountant in Toronto while working for the public accountant firm now called PriceWaterhouseCoopers. Moved to Hilton Head Island in 1991 and spent 4 years here with Spinnaker Resorts before moving to Taylors, South Carolina for 6 years. In the spring of 2000, returned to Hilton Head to again work with Spinnaker Resorts. Hobbies have included sailing, flying, motorcycling, bicycling, sports cars and golf.
Poseidon Coastal Cuisine & Rooftop Bar review by Piet Zaner, Corporate Controller for Southwind Management
Being that it is Restaurant Week on Hilton Head Island, and that I have a certain passion for eating, it was a no-brainer to contribute to this blog! Poseidon (Coastal Cuisine & Rooftop Bar) likely may be the newest and most buzzed about restaurant on the island. The SERG Restaurant Group continues to push for total dominance of the Hilton Head dining experience. The addition of Poseidon with its obvious emphasis on seafood and all that a waterfront location might provide, may indeed put them well on their way. So with a dashing dinner date in tow we braved the cooler January temperatures to head to dinner at this restaurant that is nestled perfectly in the newly created and scenic Shelter Cove Town Centre.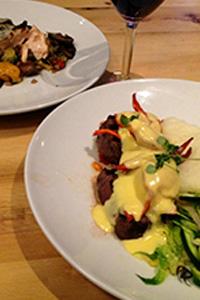 Photo by Piet Zaner
Poseidon does not lack for attraction and the place was packed! Even with Priority Seating we waited a half hour for our table, which was made bearable by going upstairs to the huge Rooftop Bar and starting with a glass of wine. The impressive Rooftop Bar takes up an equal amount of space as the downstairs dining. A giant four-sided bar, tables, loads of outdoor seating (had it been warm enough to consider), and most significantly a large stage and dance floor for experiencing live music and good times. Wednesday nights are set up for Coastal Country night, featuring country music and professional line-dancing lessons. Thankfully, before that got too crazy, we were whisked away to our table!
Service and staff – excellent all around! For service, Poseidon gets an A+. We weren't as impressed by the feel or ambiance. The downstairs dining was wide open and too well lit. Even though the décor was professional in design, it felt a bit cold and antiseptic, with the water-themed colors and again the lighting was over-abundant. For atmosphere, Poseidon gets a B.
Now for the fare! Given that I knew this would end up being just as much an effort in writing as it was in eating, we paid special attention to presentation, taste, and price. The experience was quite enjoyable but ultimately ended with mixed reviews on the food. I ordered from the main dinner menu which was especially abundant in seafood. My date chose from the special Restaurant Week menu wonderfully priced at $24 for a 3-course meal. It provided an exceptional array of appetizers (6), entrees (7), and desserts (3) from which to choose.
She selected the Poseidon Salad (mixed greens with all the common elements while including artichoke hearts, ricotta salata, and homemade herb dressing). This turned out to be tasty enough, yet for some reason was a bit gritty (large pepper in dressing perhaps?). For the entrée she chose Atlantic Salmon. Quite frankly it was the most disappointing aspect of the entire meal as the grilled fish was so overcooked it could've passed for blackened. The salmon was served over a combination of coastal wild rice and tabbouleh. Not my choice for a side dish to pair with the overly dry salmon. The Vanilla Bean Crème Brulee for dessert was an individual sized cream filled pastry – well-conceived and delicious. Given the price and choices the special menu was a winner, although the Salmon entrée fell flat.
As for me, I opted for two notable choices from Poseidon's primary dinner menu. As a preface, the restaurant has an 'oyster bar' area specializing in fresh oysters. On this night they had no less than five regional area varieties to choose from! I decided on the East Coast version from Chesapeake Bay, VA. A half dozen arrived to our table. Simply divine… best description. Very fresh, wonderful flavor and with a nice combination of homemade sauces. The oysters were simply outstanding and among the best I've ever had.
For an entrée I ordered Filet & Lobster which ultimately summarized the mixed reviews of the food for the evening. The feature was a 6oz Filet halved and topped per side with three perfectly delivered lobster claws – all of which came covered in a delicious homemade hollandaise sauce. The beef was acceptable and presentable, but just lacked any excitement for flavor. The lobster was top-notch. Fresh as you might expect from this seafood-touting establishment, perfectly cooked and paired with the hollandaise. This signature entrée could have been award winning, if they would've found more pizazz for the filet and if they would have uncovered why the vegetables fell asleep with their limp, tired presence.
The culinary recap:
Poseidon Salad: B-
Salmon on Wild Rice: D
Vanilla Bean Crème Brulee: B+
East Coast (VA) Oysters: A+
Filet & Lobster: B (only because the beef and vegetables unfairly hurt the A+ lobster)
Altogether it truly was an enjoyable dinner out at possibly the hottest new restaurant/bar on Hilton Head Island. My recommendation? Wait for a warmer day. That way you can delight in the picturesque Broad Creek view from the outside bar and dining areas. But if I were to impart one thing – surely take advantage of the best oysters in town! Since those slimy creatures are second to none (as well as the lobster and the friendly service), why not give Poseidon a shot, or rather a shuck?
Piet Zaner enjoys the Carolina Lowcountry way of life and cuisine since moving here 2 years ago. Born and raised in Connecticut, Piet joined the Army before attending college in Florida. After graduating with an accounting degree and then becoming a CPA, he spent 15+ years working in various roles within public accounting and the private sector. Piet has two children in college and one still in high school. He enjoys dining out, fitness, reading, and renovating real estate projects.
NEO review by Carolyn Taylor, Staff Accountant for Southwind Management
My husband and I look forward to Restaurant Week every year! It gives us an excuse to try a new restaurant. Or to try something new at a restaurant we frequent.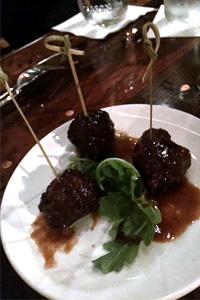 Photo by Carolyn TaylorThis year we met another couple at Neo, the wonderful farm to table location in Moss Creek Village, just over the Hilton Head Island bridge on the mainland. Restaurant week often offers a chance to explore the full menu with their price fix "prix fixe" specials. So instead of just having an entree you get a chance to have a three course meal! Why not, right?
For the first course, I decided on Lamb Lollipops, which featured a sweet and spicy barbecue sauce. Out of the four of us, we all ended up choosing the same second course – the Blue Crab and Corn Chowder. It was mouth-wateringly delicious! It had just the right amount of spice and was the highlight of the whole meal! Finally, for my main course I selected their shrimp and grits. I may not be a Southern girl but it is a Southern staple. The experience was copacetic and worthy of a return visit. The inside is warm and inviting and water is served out of mason jars to complete that southern ambiance.
Carolyn Taylor was born and raised in Middletown, Ohio. She moved down South following her now husband's graduation from University of South Carolina in the summer of 2010. She recently graduated from University of South Carolina-Beaufort. Free time is spent on the boat with her husband Charlie, and two dogs, Reagan and Annie.
Red Fish Hilton Head review by David Moore, Corporate IT Helpdesk Manager
Bewildered tourists to any vacation destination may sometimes feel as if the 1983 film "National Lampoon's Vacation" was written specifically with them in mind; the long drive down to the island in that wood panel Ford station wagon can leave travelers feeling fatigued and weary. Hilton Head Island has many things that a family can do with kids in tow but sometimes the war-torn adult needs to get away. Red Fish on Hilton Head Island is exactly that place.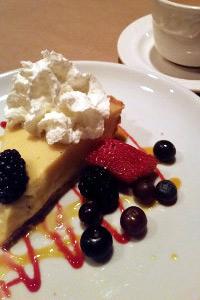 Photo by David Moore
Creatively nestled behind a light wall of natural indigenous plant life is Red Fish, a top notch facility designed to send taste buds on pleasant culinary excursions. Situated nicely and meek in presentation the entrance beckons hungry patrons into a smorgasbord of mixed-medium décor amidst an ingeniously formal but relaxed layout; simple ambience and visually catching art work in the gallery stretches the imagination and precedes the guest to the table. Patrons are seated in either the Chef's Cellar, a small dining area cleverly attached to a semi-open kitchen, or the Main Dining Room which is splendidly lit and sets the stage for the event. For light fare and an evening with the local mixologist, the bar area is positioned within the Wine Room and is surrounded by fine spirits and stunning wooden framework.
The Chamber of Commerce hosted "Restaurant Week" and we took notice. Red Fish was on the list. Red Fish did not disappoint. Claudia, a Red Fish veteran of 12 years and 22 year Hilton Head native, expertly directed our experience as if she wrote the menu herself. Her personal charm and professional demeanor took center stage as she described our menu items in fine detail. She made us feel welcome and that is half the battle.
We began our night with a fresh five ingredient French bread served with a scrumptious Chimichurri sauce, an aromatic green cilantro, jalapeño, and garlic mix that complimented the bread perfectly. The spice was not overwhelming but had a bite that only left you wanting more. After a brief romance with the bread, we gracefully moved on to our appetizer. We chose the Lump Crab Cake served with a brilliant pico de gallo and garlic aioli. The crab cakes did not have that over-breaded texture or taste. What you order is what you get – Lump Crab. Red Fish likes to keep things local but this particular catch heralded from the Boston area. With the weather there as it is, we would want to escape as well. This appetizer was exactly what I expected from the culinary genius of Chef Chaun Bescos, a 4 year staple at Red Fish. Don't let his persona fool you; Chef Chaun speaks very confidently through his creation.
The main meal was Filet of Sirloin, a slowly cooked sirloin perfectly grilled to our satisfaction. Without giving up any trade secrets, we can tell you that this beef was cooked at a very low temperature for 4 hours before it hit the grill. Medium rare was our preference and they achieved it to perfection. The chipotle butter on top made this main course sparkle and sing. This signature rubbed serving was served over a bed of diced Yukon Gold potatoes, sweet onions, French "haricot verts", and fresh bacon bits. We have not yet recovered from this meal. This is meant in all the respect I can gather. These people know what they are doing.
Finishing this evening, the "Key West" Style Key Lime Pie took the cake… or at least took "the pie". As the menu suggested, this silky and fresh slice of bliss was topped with mango and raspberry coulis, and whipped cream. The tart value was just right.
For an exceptional evening of dining in an unspoiled environment, Red Fish Hilton Head will settle the argument about which came first, the chicken or the egg. After this meal we know that the answer is "neither". Red Fish came first and with no competition. Bon Appetit!
David Moore was born in Great Britain and moved to Greenville SC during childhood which is where he calls home. Attended Strayer University with several industry certifications. Navy Desert Storm veteran. Became an Orthodox monastic in 2004 and was ordained priest. First career: Food and Beverage cook/sous chef.