Musical Family : It Takes a Village of Talent
February 17, 2016 - 8:48 pm
(All photos courtesy of Hughes Brothers Theatre)
I recently had a chance to visit with three of the five Hughes brothers at the Hughes Brothers American Family Theatre that features their show called "IT." This is what I found…
Mama Hughes gave each of her grown boys a multi-use power saw for Christmas. The five boys might not know exactly what the saw is called or what it does, but they will soon figure it out and take full advantage of every possible use. That multi-use power saw accurately sums up the Hughes family and how their lives have been cut and pieced together in the last 30 years (nearly half of those years in Branson) to create one of the most polished and diverse shows in Branson that dovetails the family together.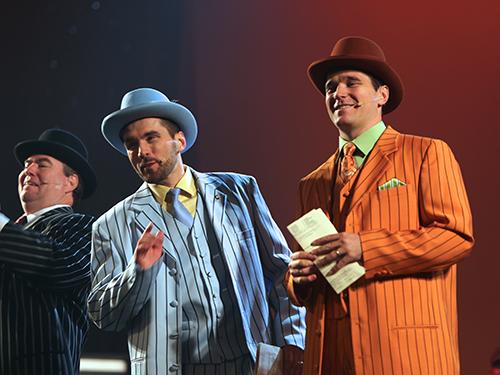 "We have a passion for life," commented Jason Hughes, "we like to do hard things and do them well." The "IT" show starring the five Hughes brothers, their five wives, and 39 children (yes, I said 39) reveals that passion for life and features the widest range of music of the Branson shows. "IT" fills the stage with the largest performing family in the world in a variety of genres.
"Someone could come in with a million dollars," said Adam Hughes, "and not produce what we have…. It took us 30 years. We had to grow a family."
They have heard all the comments and jokes (and wrote most of them themselves) about their massive family but what you haven't heard is what it takes to make their theatre and show a success.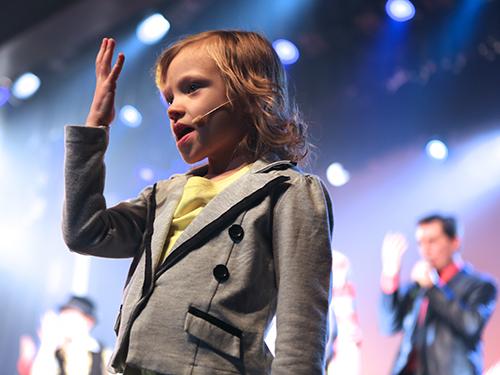 There is a saying about show business: business is the larger of the two words and that word is what makes you or breaks you. In other words, many can perform, but if you don't have the business part down, you're done.
"This is a family business," stated Ryan Hughes. "We do all aspects of running the whole business." Most of what they know was gathered through life's experiences and self-taught through years of work.
The Hughes brothers are like that multi-use saw and each has his role. Ryan is the accountant, Jason the choreographer and director, Marty the music arranger and sound designer, the group's publicity graphics fall to Adam, and Andy is the stage manager and fix-it man. Of the thirty plus employees for their company, over half are family members.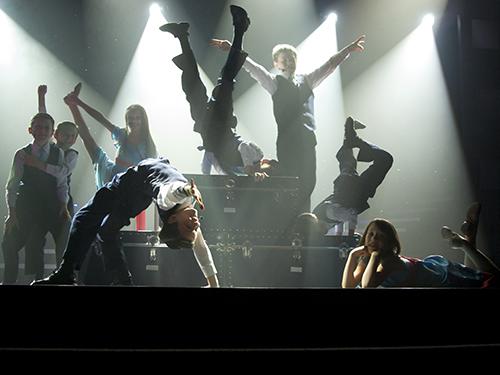 Many of these duties came about as a necessity for the family and it was a natural process that guided each to cover the bases. Ryan explained that any of the brothers could probably do the accounting but he was, "more patient with the process and they would be bored." Jason continued, "Ryan is meticulous to make it right."
They each naturally help each other out with whatever needs there are, and it was also natural that they found the stage and migrated to Branson since they had been performing from an early age when they weren't helping their dad build concrete fences.
When it comes to performing, their first love seems to be musical theatre and that theatrical flair is seen in their production.
"Theatre is the greatest art form," added Jason, "…the magic, dance, acting, costumes… the artistry." They have performed in over 60 musicals combined yet they still have a love of all genres of music. "The more educated you are about music, the more you love it," stated Jason who went on to say he was a big fan of country.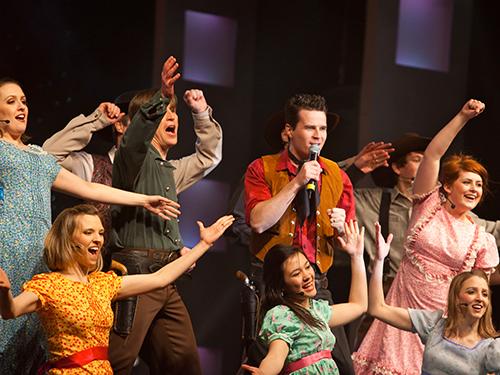 Within the discussion of music, Adam interjects, "First and foremost, it's family with us." Almost everything each brother does is connected to his own family or to another brother's family… Ryan explained that their kids were nearly always with them and they had to be flexible in order to keep duties covered. Adam mentions, "Ryan works during intermission," on payroll/accounting instead of staying late and taking time away from kids.
They also made it clear that their wives keep them on track and guide them through the day with the numerous activities: birthday parties resemble block parties with the same amount of planning; some of the brothers work extensively with the Boy Scouts and each possess a strong faith and study scripture or teach classes, music lessons, educating, doctor appointments, etc. Being flexible is paramount for day to day success.
That flexibility continues even to the stage. When doing a show with 26 cordless microphones, one mic in the wrong place may take until intermission to figure out who has what, according to Jason. Someone is bound to become sick, yet the show goes on with the family adjusting, changing, and trouble-shooting to ensure a quality production.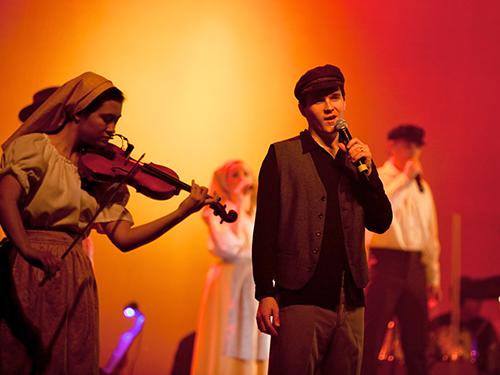 It may seem like organized chaos, but it is more of getting-it-done-right for the Hughes whether it be doing a show or raising kids. It's not just the ability to hit notes so fused in harmony that your teeth hurt, but the talent of being patient, understanding, and supportive.
"It is world class entertainment," explained Jason of their "IT" show and their multi-award winning Christmas Show; we want the audience to "feel the love we have and be inspired." Ryan continued, "It's impossible to describe and to where "IT" takes people."
Maybe Mama Hughes bought each boy a multi-use saw because she needed them to build her something, or maybe it was just to see what they would do next. Either way, the five Hughes brothers will be creating something and "IT" will be worth seeing.
For information on booking a show at the Hughes Brothers Theatre while on your next Branson, Missouri vacation, contact me for discount show tickets at Branson Ticket Deals. You will thoroughly enjoy the experience!