Making The Most of Your Sea Pines Day Pass
January 15, 2016 - 4:40 pm
Whether you're a first time visitor to Hilton Head or a repeat vacationer on our shoe-shaped island, you've most likely bookmarked Harbour Town as a must-see while here vacationing. Harbour Town is inside Sea Pines Plantation, a 5,200 acre gated residential community on the southern tip of the island. The daily visitor pass fee to visit any location in Sea Pines is $6. It is well worth it! I've compiled my favorite spots within the gates of Sea Pines Plantation, to make the most of your day pass to the area.
1.Harbour Town Marina – What's not to like about seeing one-can-only-dream-about-owning yachts? Add to that a dozen or so boutiques facing the marina, restaurants and ice cream, rocking chairs looking out over the water, window boxes of bright flowers, a playground that wraps around a treehouse, the Liberty Oak stage and of course, the 90 foot red and white striped Harbour Town Lighthouse. Climb the 114 steps to the top where you can see a far expanse over the famous 18th hole of a PGA tournament golf course and the open water. Possibly the most incredible vantage point on Hilton Head Island!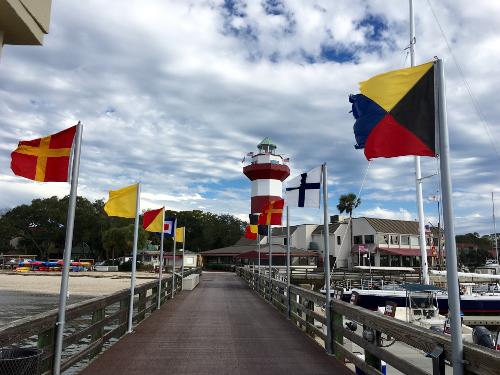 2. South Beach Marina – A small marina, South Beach has a quaint feel with bold colored buildings and enjoys both the tourist business and locals who frequent the area. You won't be disappointed by stopping here! Check out my favorite, the General Store. There is also a very "local" bait and fishing tackle shop and The Salty Dog Cafe. South Beach is the southernmost tip of the island.
3. Sea Pines Forest Preserve – The founders of Sea Pines had a vision to allocate land within Sea Pines that would be a Wildlife Habitat and Outdoor Recreation Facility with nature trails, picnic spots, information about the local wildlife and botanical species. Lands that once used to grow rice, indigo and cotton quietly speak volumes of nature and the island's past solitude. Wear comfy shoes and take some time to walk the trails. Read about our wildlife and plant species while getting some exercise.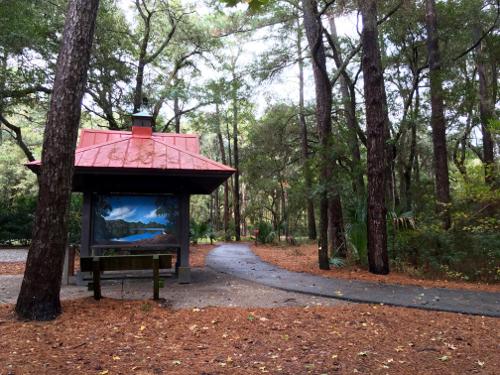 4. Lawton Stables – While enjoying the intentionally planned natural feel of Sea Pines Plantation, visit Lawton Stables where you can participate in guided trail rides through the Sea Pines Forest Preserve. Also on site, the children can enjoy an animal farm that includes a resident deer. The horse stables and grounds are on a beautiful location in Sea Pines that's full of oak trees draped in Spanish moss.
5. Stoney-Baynard Ruins – Now this is history! Stop here to walk among the ruins of a plantation home built between 1793 and 1810, eventually destroyed by the invading Union soldiers. The building remnants are a tabby mixture of shell and sand, common during a period of time in areas of the South.
6. Indian Shell Ring – While exploring local historical gems, don't miss this mind-blowing 4,000 year old Indian shell ring that takes the island back to its true original residents. Located inside the Sea Pines Forest Preserve, the shell ring was most likely built around a campsite with oyster shells forming the base. Indian artifacts have been discovered throughout this site too which have helped provide historians with insight into the local American Indians.
If you've visited Hilton Head and taken a trip inside Sea Pines, you've visited one or more of these locations. Why not send me an email or comment on the Facebook link to my blog to tell me what's your favorite Sea Pines spot to visit?