How to Survive Buying Tickets in Branson
February 20, 2017 - 5:00 am
On nearly every city block in Branson there is a sign or shop that says tourist information center, discount tickets, half-price tickets, etc. and in various restaurants and attractions, there is a chain smoker in a booth waving you to him with promises of grand savings. If you're a first timer to these hills, you will quickly get snared into something. You can try to avoid the trap and jump on the internet to begin searching out tickets, but you will again get nabbed. There are rules to surviving buying Branson tickets if you only want a show ticket at a discount with no hassle:
If it looks too good to be true, it is.
If they can't send tickets to you via email, they want you to drop in so they can "talk" to you.
If they CAN send the tickets in an email, you might be paying WAY too much.
If it is a big discount and no tour, you might have to make your own reservations and it's a standby ticket. NO worries!
Here are some survival hints to make you seem like a local:
The tax is 11.6% on show tickets and soon will go up to 12.6%. Ask for the FINAL amount. Most places advertise PRE-tax and service fees. Example: one show in town advertises for $45 but once the tax and fees are added, it's $52.45.
If online, check to ensure you are on the actual attractions site and not an outlet or you could be in for more than you bargained. Many of the outlets masquerade as the attraction. You think that you're buying from the theatre, but in reality, you are not. Also, some of the theaters partner with the outlets to handle their on-line sales. You will be moved from the theatre to the outlet and then have to go pick up your tickets and get solicited.
Ask them if they will book the seats for you. If not, you get to do all the work and some shows will not accept certain vouchers until just before show time – you get what's left over.
If they say a show you want is sold out, it might not be. Check with someone else.
In 2016, one of the bigger outlets was claiming "sold out" for a popular show when it wasn't. Rumor has it their cut wasn't as much and they pushed you to another show. So, what do you do? Well, you can go directly to the show and pay full price with a diddly coupon, or you can use your ticket service designed and implemented for Spinnaker Resorts owners and guests that is right in the lobby of Palace View Resort. Branson Ticket Deals is the only discount ticket outlet that will give you advice, discounts, and full-service with no strings attached. Your tickets can be emailed to you or waiting here when you arrive. You can also sit down in person with us and have your week completely booked in just a few minutes. There are no other ticket services as fun or as good looking!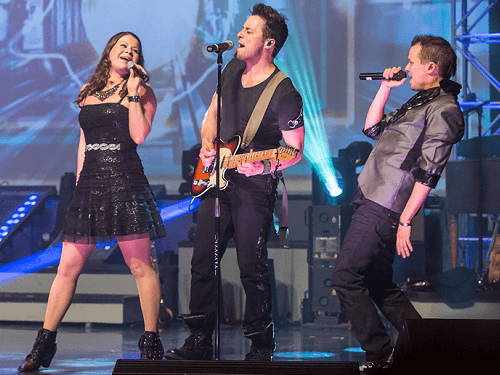 The Haygoods performing at Clay Cooper Theatre
Share the shows you booked through Branson Ticket Deals on Social Media!