Plan a Beautiful Beach Wedding
Is there anything more romantic than getting married on the beach? Your toes in the sand, the sound of the ocean waves, and the breeze flowing through your hair create a gorgeous backdrop for you and your fiancé to say "I do."
If you've been dreaming of a beach wedding, just know that it requires some serious planning. But don't let that deter you! Just follow our tips and you'll soon be walking down the sandy aisle of your perfect wedding.
Beach Wedding Tips
Just like with any other wedding, whether it be at a hotel, a local park or the country club, it can be easy to make mistakes in the planning process. Here are a few you don't want to make:
Choosing the wrong location: Nothing will tarnish your mood faster than being surrounded by strangers sunbathing and children shouting as they build sand castles. When choosing a location for your wedding, make sure you choose a venue that will allow you to block off an area that's reserved just for you and your guests.
Going overboard on sea-worthy decorations: You don't need seashells adorning every little detail, and there's only so many ways you can incorporate anchors into the theme. Don't feel like you need to have your wedding scream "beach" from all corners. Stick with a few tasteful details and let the scenery serve as the main piece of décor.
Picking a heavy dress: The last thing you'll want to be wearing is a ball gown with heavy details. One, it will be difficult for you to walk in across the sand, and two, it will be hot. Casual, breezy dresses made of lightweight fabrics like chiffon are the way to go for a beach wedding.
Wearing heels: Have you ever tried walking through the sand in heels? It's not easy, and chances are you're going to fall. Unless you have a sturdy flooring leading up to the altar, go with some glammed-up sandals instead. You could even go barefoot!
Beautiful Locations
There's no doubt that Hilton Head Island would make a beautiful setting for a beach wedding. There is a beauty and charm here that plays well with a romantic wedding. Plus who can beat the soft, cream-colored sand and blue ocean waves?
Just note that beach weddings on Hilton Head require a permit from the Town of Hilton Head. You can submit the permit electronically or download a PDF online to then mail in.
If you want to go a little further south, Ormond Beach, Florida, is another lovely location for a beach wedding. The palm trees along the beach will set the mood, and the sunset over the water will provide a stunning backdrop for your wedding photos.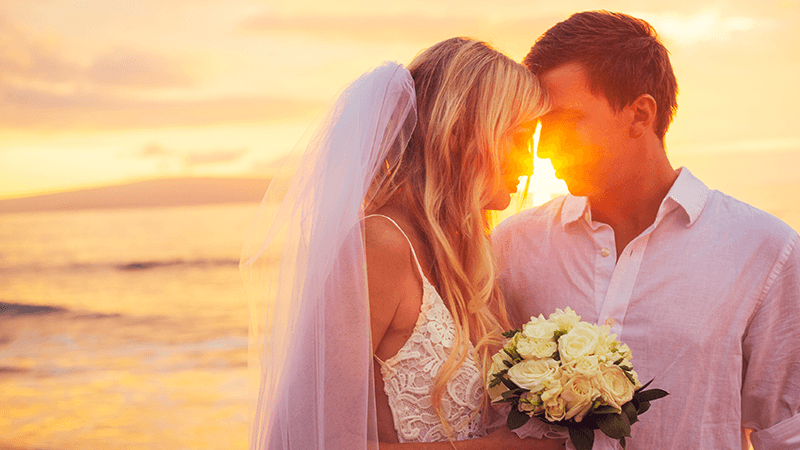 Essential Decor
The ocean will be beautiful enough on its own, but it never hurts to throw in a few personalized details to really make your wedding feel like you. Make sure these essential items are on your list:
Personalized parasols: These make a lovely gift to your bridesmaids, plus it makes for a beautiful prop for pictures.
Flip-flops: At your welcome table, put out a basket of flip-flops for your guests to wear during the ceremony. That way they can preserve their more formal shoes for the reception.
Sunglasses: While you're at it, hand out cheap shades in case anyone forgot theirs.
Fans: DIY some handheld fans to keep your guests cool. One fun idea is to make the fans serve as your wedding program.
Seashell escort cards: Attach miniature shells to your escort cards to help guests find their seats.
String lights: Drape string lights around your reception area for a truly beautiful look.
Start Planning Today
Spinnaker Resorts has vacation resorts in Hilton Head Island and Ormond Beach that would serve as great accommodations for you and your wedding guests. Contact us today to find out how you can plan your perfect beach wedding here.