The Bluegrass & BBQ Festival at Silver Dollar City. It's extraordinary for fans, families, and entertainers!
Festivals Not To Be Missed In Branson, MO
Branson exudes the small-town charm with events and festivals that you will often find in thriving communities; we just happen to have a lot more than most. Coupled with special events for visitors, there is still old-fashioned, feel-good Americana that blooms and will give that extra touch to an Ozark vacation.
Silver Dollar City Hosts Festivals
Silver Dollar City features festivals throughout the year. April's sweet weather allows street performers and culinary specials at the Street Fest, which soon transitions to the Bluegrass and BBQ Festival in May. You'll find special summer events for your family but fall brings the captivating Harvest Festival filled with artisans and covered in illuminated pumpkins through October. As for the Silver Dollar City Old Time Christmas, it's too much and too incredible to describe! You just have to experience it for yourself.
Plumb Nelly Days & Autumn Daze Festival
In April, downtown Branson comes to life with the Plumb Nelly Days Festival, which is a pretty big deal for locals. A part of Atlantic Street is historically blocked for an outdoor, shaded stage that rotates Branson-famous to novelty performers for anyone passing by or taking a seat. In the Awberry Lot, behind the famous Dick's 5 & 10, will be around 100 artisans and craft vendors engulfed by hordes of local and out-of-town shoppers with most under tents. You might experience a down-home-sensory overload of handmade quilts, jewelry, blown glass, and plenty of food for a variety of taste buds. It's all free to venture through. Take a trolly service around downtown, the landing, and back again to fill your trunk, belly, or your senses with even more. When September rolls around, (same location as Plumb Nellie Days) enjoy the Annual Autumn Daze, Arts, Crafts, and Music Festival. It's similar to the Plumb Nelly but with different décor. Just wear a light jacket and sip some hot cider.
Fall & Grape Festival
The city of Branson bumps up against the town of Hollister. The town is home to a gathering that has been active since 1911: The Fall & Grape Festival. Originally, it was to celebrate a good year of work especially that of the vineyards. Believe it or not, Missouri was once the number three wine-producing state in the union, but prohibition popped that cork in the 1930s. The historic Downing Street will have beer and wine gardens, a grape stomp, a plethora of vendors, and live entertainment that can be anything from music to demonstrations by the local martial arts club. Downing Street alone is a wonderful place for you to visit any time of year because it resembles an old English village.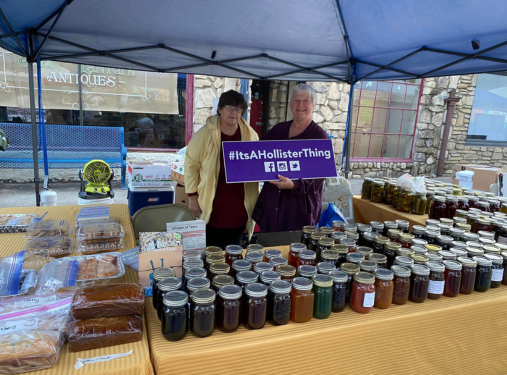 Heartwood Barn Festival
A barn dance might not classify as a festival, but Branson happens to have three scheduled barn dances for a high-stepping and a hooting good time. It's not a "typical" barn, yet it still possesses that structure and a joyous community atmosphere to relax and enjoy. The Sycamore Creek Family Ranch holds this nostalgic gathering in their Heartwood Barn in April, May, and June. There is a nominal fee that is well below what you would pay for any show or attraction in Branson. Enjoy light instruction for line dancing, two-stepping, and a few other styles you've wondered about. Pizza and concessions are onsite in the food truck when your boot-scooting feet get tired. It's a festival of friends and friends-to-be that is far removed from the shows and lights of Branson. Many locals go to rediscover that there is a normal life and community. You will soon find that a simple life is still out there after all.
Granted, Branson promotes a variety of events to increase the tourism business, but each event has its small-town feel without straining your wallet. Not many towns have an Elvis Festival, multiple fall festivals of crafts and pumpkin patches, boat races, national Little League tournaments, dance festivals, a week's long Veterans celebration, and a Super Summer Cruise Car Show. This little town of under 12 thousand attracts a variety of clubs and contests that is often the envy of any city's chamber of commerce.
FOLLOW SPINNAKER RESORTS ON FACEBOOK AND INSTAGRAM FOR MORE INFORMATION ON ACTIVITIES!